Sadly, the cost of the floor is increasing. In order to cover the extra expense, Donna is forced to raise the cost of entry to six dollars. This is still a bargain, the cost of a harkadah in California is twelve to fourteen dollars.

There will be no session August 20, 2017, as we will all be tired after B'yachad and have an eclipse to watch the next morning.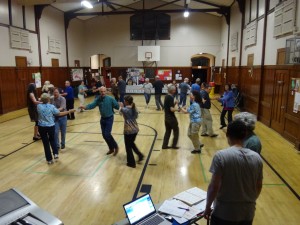 Welcome to Sunday Dance at Fulton Community Center with Donna Cole, the most energetic harkada in Oregon. We dance circles, couples and some lines, starting with beginning dances at 8 pm and progressing into intermediate dances around 9 pm. Usually there are four couples' sets, ending with a final set from 11 pm to the close of the session.
Session Leader
Donna Cole
Admission
$6.00 ($7 on special or party nights)
Date and Time
Sundays, 8:00 p.m. to 11:30 p.m.
Check the online Portland Israeli Dance Calendar for notifications of cancellations or schedule changes.
Session Location
Fulton Community Center, 68 Southwest Miles St., Portland, OR 97219  Click here for a map.
Contact Information
Donna Cole, 503-645-4160
SundaySession@portlandisraelidance.com
Join the mailing list for regular updates.

Music downloads have been moved to their own page. See menu above.
The following dances have been taught at the Sunday session.  You may sort the list in most browsers as you need using the arrows at the top of each column.  Or, feel free to use the Search box to find a dance or choreographer or other term in the list.

TAUGHT YEAR/MO
DANCE TITLE
YEAR RELEASED
LEVEL
TYPE
CHOREOGRAPHER
TRANSLATE
LINK
2017/08
Linshom
2016
I
C
Yaron Ben Simchon
Breath
2017/07 A. Alpert
Ben Benyamin
1999
I
C
Y. Malichi & M. Shem Tov
Son of Benjamin
2017/07 A. Alpert
Op
2011
I
P
Mitch Ginsburgh
2017/07
Ktana
2016
I
C
Rafi Ziv
Little (f)
2017/07
Elem Chamudot
2017
I
C
Elad Shtamer
A Cute Boy
2017/06
Achshav Ani Chozer
2017
I
C
Michael Barzilai
Now I return (m)
2107/05
Tfilot
2015
I
C
Itzik Ben Dahan
Prayers
2017/05
Lo malachim
2016
I
C
Tamir Shalev
Not angels
2017/04
Zahav
2017
I
P
Gadi Bitton
Gold
2017/04
Ima Im Hayiti Yachol
2016
I
C
Avi Levy
Mother, if I could
2017/03
Keren Or
2016
I
C
Gadi Bitton
A ray of light
2017/02 (Seattle)
Sipur Yashan
2017
I
P
Sagi Azran
Old Tale
2017/02
Dvash B'sfatayim
2016
I
C
Sagi Azran & Thai Avnaim
Honey on the lips
2017/02
Sorefet Rechavot
2016
I
C
Dudu Barzilai & Tamir Shalev
Dance Floors on Fire
2017/01
Ruchot
2016
I
P
Gadi Bitton
Winds
2016/11
Silsulim
2016
I
C
Gadi Bitton
Frills
2016/10
Bechol Asher Telchi
2015
I
C
Gadi Bitton
Wherever you go
2016/09
Inshallah
2016
I
C
Michael Barzalai
God willing (arabic)
2016/09
Ma Hen HaMIlim
2016
I
C
Avi Levy
What are words?
2016/08
She'yiye Bemazal
2015
I
C
Dudu Barzilai
May luck come to you
2016/7
Birkat Haderech
2014
I
C
Gadi Bitton
traveler's prayer
2016/07
Bricha
2016
I
P
Nona Malki
Escape (run away)
2016/06
Kululu
2016
I
C
Sagi Azran
ululation
2016/05
Melech Ha'olam
2015
I
C
Rafi Ziv
King of Everything
2016/05
At Kmo HaRuach
2015
I
P
Sagi Azran
You are like the wind


2016/04
Derech Kol HaAhavot
2015
I
C
Tamir Shalev
Way of All The Loves
2016/03
Lama Li Lama Lach
2015
I
P
Yaron Ben Simchon
Why to me, why to you
2016/02
Mimi
2015
I
C
Rafi Ziv
a person's name
2016/01
Kshe'at Halacht
2015
I
P
Sagi Azran
When You Go
2015/12
Maagalim
2015
I
C
Gadi Bitton
circles
2015/11
Rafsoda
2015
I
C
Gadi Bitton
raft
2015/11
Hi Rak Rotzah Lirkod
2015
I
C
Yaron Ben Simchon
She Just Wants to Dance
2015/10
Nedudim
2014
I
C
Ravi Ziv
Wandering
2015/09
She'tach Esh
2015
I
C
Yaron Ben Simchon
war zone (firing range)
2015/09
Derech HaShalom
2015
I
C
Yaron Malichi
Road to Peace
2015/08
Tipot
2015
I
C
Rafi Ziv
Drops (raindrops)
2015/07
Amnon V'Tamar
2015
I
C
Gadi Bitton
Characters from book of Shmuel/ Pansy flower
Gadi dances
2015/07
Marot
2014
I
C
Avi Levy
Images
Avi teaches
Dance
2015/06
Happy
2014
B
L
Yaron Alfasi
from europe
2015/05
Et Lirkod
2015
i
C
Elad Shtamer
Time to dance
Elad dances
2015/04
Shma
2012
I
C
Avi Levy
Listen
Avi dancing
2015/03
Le'olam
2003
I
P
Avner Naim
Forever
Maor teaches
2015/02
Chag Ahava
2005
I
C
Rafi Ziv
Love Holiday
Rafi dances
2015/01
Ve'afilu Be'hastara
2014
I
C
Rafi Ziv
And even in concealment
Rafi dances
2014.09
Haradio Hayashan
2000
I
C
Viktor Gabbai
The Old Radio
group dancing
2014/12
Vatikach Miryam
2014
I
C
Sagi Azran
And Miriam took
Sagi teaches
Sagi dances in France
2014/11
Ha'oto Sheli Hayofi Shelach
2013
I
C
Yaron Ben Simchon
My car your beauty

dancing in London
2014/08
Matanot Katonot
2014
I
C
Gadi Bitton
small gifts
Gadi Teaches and Dances
2014/08
Vilner Gaon
2010
A
C
Mitch Ginsburgh
The Gaon of Vilna
Dance
2014/08
Hamanginah Hayashana
1989
I
C
Israel Shikor
The Old Melody
Chinese folkdance group
2014/08
Olam Hafuch
2000
I
C
Jack Ochayon
World upside down
Ohad Atiya teaches
Jack dances
2014/08
Halev
2013
I
C
Gadi Bitton
The heart
Teach and Dance
2014/07
Derech
2012
I
P
Yaron Ben Simchon
Road
Nisim demos
2014/07
Shma Bekoli
2013
I
C
Dudu Barzilai
Hear me
Dudu dances
2014/07
Kama At Yafa
2013
I
C
Dana Mona
How beautiful you are
dance
2014/06
Dvash VeChalav
2000
I
C
Avner Naim
Honey and MIlk
Avner dances
2014/05
Sodot
2013
I
C
Dudu Barzalai
secrets
Dudu dances
2014/04
Sipur Chayai
2013
I
C
Rafi Ziv
Story of my Life
Rafi dancing
2014/04
Mamri'im
2007
I
C
Rafi Ziv
Taking Off(pl.)
Rafi dancing
children dancing
2014/04
HaAyara Shel Tuvia
2011
I
C
Victor Gabbay
The town of Tuvia
dance
2014/04
Achshav Linshom
2013
I
P
Tuvia Tishler
Now breathe
dance
2014/03
Olam
2013
I
C
Gadi Bitton
World (Everything)
dance
2014/01
Zemer Nugeh
1977
B
C
Yankele Levy
Melancholy Song
2014/01
Chibuk Bachashecha
2007
I
C
Oren Ashkenazi
A Hug in the Darkness
2014/01
Kol Niderei
1990
B
C
Shmulik Go Avi
All My Vows
2013/12
Ein Od Milvado
2012
I
C
Avi Levy
There's no other than him (God)
2013/12
Mishamayim
2013
I
C
Shlomo Maman
From Heaven

2013/12
Kshe'tavo Tire
2005
I
P
Avi Levy
When You Come You'll See
2013/12
Nitzmadnu
2007
B
C
Rafi Ziv
We Got Close
2013/11
Eifo At HaYom
2013
I
C
Moshe Twilli
Where are you (f) today?
2013/10
BaLaila
2013
I
C
Gadi Bitton
In the Night
dance
2013/10
Kul Shi Kulam
2013
I
C
Gadi Bitton
dance
2013/07
Yesh Sham Bama
2012
I
C
Gadi Bitton
There's a Stage Here
2013/07
Katonti
2013
I
C
Oren Ashkenazi
I'm Unworthy
2013/04
Gam Ani Rotze
2004
I
C
Rafi Ziv
I Also Want
dance
2013/03
Kama Tov She Nif'gashnu
2012
I
C
Kobi Michaeli
How Great We Met
2013/03
Kol Mila
2012
I
P
Nona Malki
Every Word
2013/02
Hahar Hayarok
1980
B
C
Bentzi Tiram
The Green Mountain
2013/02
Mei Nahar
2011
I
C
Yaron Ben Simchon
Waters of the River
2013/01
Tzchorat Kanaf
2011
I
C
Avi Levy
Pure White-Winged Dove
instruction & dance
2013/01
Dror Yikra
1965
B
C
Moshiko HaLevy
Freedom Shall he Proclaim
2012/12
Yedid Nefesh
1971
B
C
Jonathan Gabay
Beloved of my Soul
2012/12
Bati Eleicha
2011
I
C
Eyal Ozeri
I Came to You
2012/10 I Believe
Ani Ma'amim
1993
B
C
Avner Naim
2012/10
Matchil Mechadash
2012
I
C
Oren Ashkenazi
It Begins Again
2012/09
Shar
2012
I
C
Dudu Barzilay
Sings
2012/09
Behar Hagilboa
1986
B
C
Sefi Aviv
On Mt. Gilboa
2012/08
Ve' Ani Shar
2012
I
P
Avi Levy
And I Sing
2012/08
Ashrei Ha'ish
1982
B
C
Dani Dassa
Happy is the Man
2012/07
Or Chadash
2001
B
C
Gadi Bitton
New Light
2012/07
Homiya Sheli
2011
I
C
Nurit Melamed
Yearning Soul
2012/06
Shir Le' Asaf
2011
I
C
Gadi Bitton
Song for Asaf
2012/05
K'she Ani Mitahev
2011
I
P
Mishal Cohen
When I Fall in Love
2012/05
Na'ale Na'ale
1986
B
C
Shmulik Gov Ari
We'll RIse Up (to Israel)
2012/04
TfilatI
1994
B
C
Avner Naim
My Prayer
2012/03
Remez
1989
B
P
Meir Shem Tov
Hint
2012/03
Nevatim
1985
B
C
Shlomo Maman
Buds of Spring
2012/03
Sodcha
2010
I
P
Israel Shabtay
Your Secret
2012/01
Ashrei Ha'ish
1982
B
C
Dani Dassa
Blessed is the Man
2012/01
Lech Lech Lamidbar
1950
B
C
Folk
Go, Go to the Desert
2012/01
Or Chadash
1999
I
C
Victor Gabbay
New Light
2012/01
Givah Achat
2009
I
C
Rafi Ziv
One Hill
2012/01
Hamalach Ha' Goel Oti
2010
I
C
Yuval Tabashi
My Guardian Angel
2011/12
Lo Matzati
2010
I
C
Gadi Bitton
I Did Not Find
2011/10
Boi Nivrach
2009
I
P
Dudu Barzilay
Let's Escape
2011/10
Le'Kolcha
2010
I
P
Nona Malki
For your voice
2011/10
Rokdim Al Ha Mayim
2010
I
C
Rafi Ziv
Dancing on the Water
2011/09
Kashkaval
2010
I
C
Rafi Ziv
French Cheese
2011/09
Kashkaval
2010
I
C
Rafi Ziv
Cheese
2011/09
Sodcha
2010
I
P
Israel Shabtay
Your Secret
2011/09
Tfilat Ha Derech
2011
I
C
Yaron Ben Simchon
Travelleer's Prayer
2011/08
Tishmeru Al Azmechem
2008
I
C
Dudu Barzilay
Take Care of Yourselves
2011/07
Beautiful
2011
I
C
Gadi Bitton
Beautiful
2011/06
Shir Hakirva *
2002
I
P
Rafi Ziv
Song of Closeness
2011/04
Kanir'e
2009
I
C
Yaron Ben Simchon
Apparently
2011/03
She'Yavo *
2010
I
P
Avner Naim
Let Him Come
2011/02
At Li Habayit
2010
I
C
Gadi Bitton
You Are Home
2011/01
Adon Olam
2010
B
C
Gadi Bitton
Master of the Universe
2011/01
Shtayim Belayala *
2010
I
P
Barzilay
Two in the Morning
2010/10
Bimkom Preida
2010
I
C
Gadi Bitton
Instead of Parting
2010/10
Me' Ever Lakatuv *
2010
I
P
Gadi Bitton
Behind the Scripture
2010/09
Ilan
2010
I
C
Elad Shtamer
Ilan
2010/08
Shuva Habayta
2009
I
C
Victor Gabbay
Return Home
2010/07
Meohav Ad Hashamayim
2010
I
C
Dudu Barzilay
In Love Up to the Sky
2010/05
Shomreni El
2009
I
C
Dudu Barzilay
Preserve Me, God
2010/04
Lifnei Shenifradim
1991
I
C
Marco Ben Shimon
Before We Part
Lifnei Shenifradim
2010/03
Medurat Hashevet
2007
I
C
Gadi Bitton
Tribal Campfire
dance with instruction
2010/02
Elohim Ta'se Shenigdal
2009
I
C
Shmulik Gov Ari
God Makes Us Grow
dance
2010/01
Toda
1986
B
C
Yossi Abuhav
Thanks
2008
Reach Menta
1996
I
C
Rafi Ziv
Scent of Mint
Rafi dances
2003
Yoshvim B'Beit Kafe
2001
I
P
Gadi Bitton & Yaron Ben Simchon
Sitting in a Coffee House
99future
Afrita
2013
I
P
Gadi Bitton
Imp(f Arabic)
instruction
dance
99future
Od Me'at
2001
I
P
Ze'ev Benedict
Soon
dance
1970?
Shnei Shoshanim
1968
B
P
Eliyahu Gamliel
Two Roses
Ohad teaches (in Hebrew)
Yaacov dances
99future
Status Meohav
2014
I
P
Dudu Barzalai
Status of love